There are plenty of reasons why I coupon. Biggest is saving money, I also find it fun and stress relieving. But the one I am focusing on today. Donations.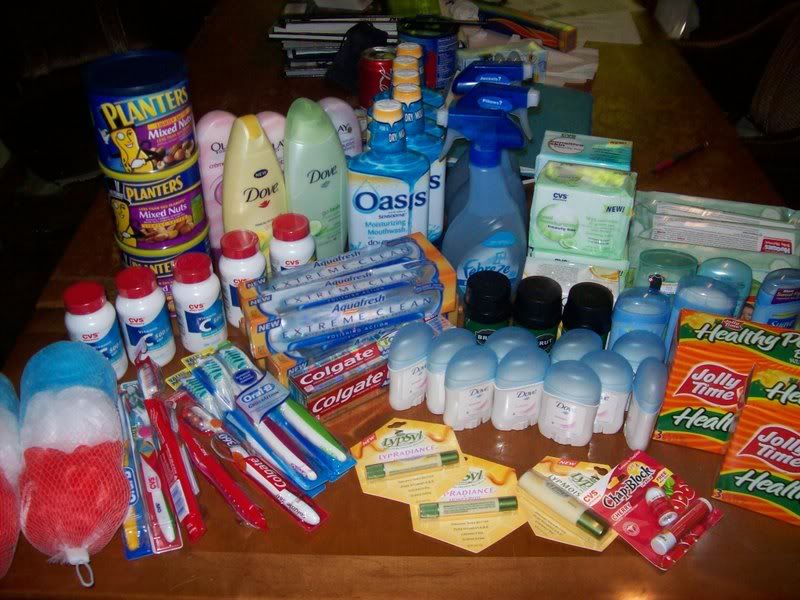 (Please ignore my husbands gaming stuff in the back, my stockpile shelving is near his gaming area)
This is most of what I sent for donation today. Roughly it included:
6 bath pouffs
4 Chapstick/lipbalms
9 Toothbrushes
7 Toothpastes
5 Vitatmin C
5 Bath Wash
3 Containers Peanuts
5 Mouthwash
3 Febreeze
4 2 Packs of Soap
10 packs baby wipes
18 Deoderant
4 Boxes Microwave Popcorn
My estimated retail value on this batch over $200
Before I stockpiled I still did donations, but I never could have afforded to send so much.
These items are going to be sent to soliders serving overseas. The organization in my area that does this is
Keystone Soldiers
Here is a breakdown of their current wishlist, as of 7/12/08 :
*Sunscreen and insect repellent
Chap Stick with sunscreen, Carmex, Blistex
**Body wash mens and ladies
Shampoo - mens and ladies
Deodorant
*Foot Powder and foot cream for athlete's foot
Odor Eaters (for boots), Dr. Scholl's foot pads, blister pads
Hand Sanitizer - small size bottles to carry with them
Shave cream – non-aerosol only and good razors
*Cold drink mixes – Gatorade, Crystal Lite, Kool Aid or the individual flavor straws you add to bottled water
Ground Coffee (not instant)
*Power Bars, cereal bars, trail mix and healthy snacks
Ramen Noodle packs or instant cup-of-soup
*Slim Jims
*Beef or Turkey Jerky
*Microwave Popcorn
Granola Bars
Sunflower Seeds & Nuts
Individual snacks like chips, crackers, cookies, cheese/cracker kits
*Peanut Butter & Jelly – small size plastic jars please
Small sewing kits and manicure kits
Mens and Ladies underwear in sizes Small, Med, Large
New or used game systems like PS2 or Xbox
Video games for the systems above or small hand-held games
**CDs and DVDs - New or used are fine. Current releases are appreciated
Air fresheners, fly strips and room deodorizers - non aerosol
*AT&T Global Pre-Paid Calling Cards (available at Sam's Club or www.aafes.com)
Money for shipping costs.
* = Items most needed or requested by the troops!
Our troops are working to protect us year round, if you are able, please support them year round!
Other places to consider for donations:
Food Pantry
Womens Shelter
Foster Care Agencies (many kids come into care with only the clothes on their backs)
Church
Animal Shelters
Clinics
Ronald McDonald House
Schools